First 100% Domestic and National Turbine in Turkey Produced; Design and Tests Completed at TOBB ETÜ
5 YEAR(S) AGO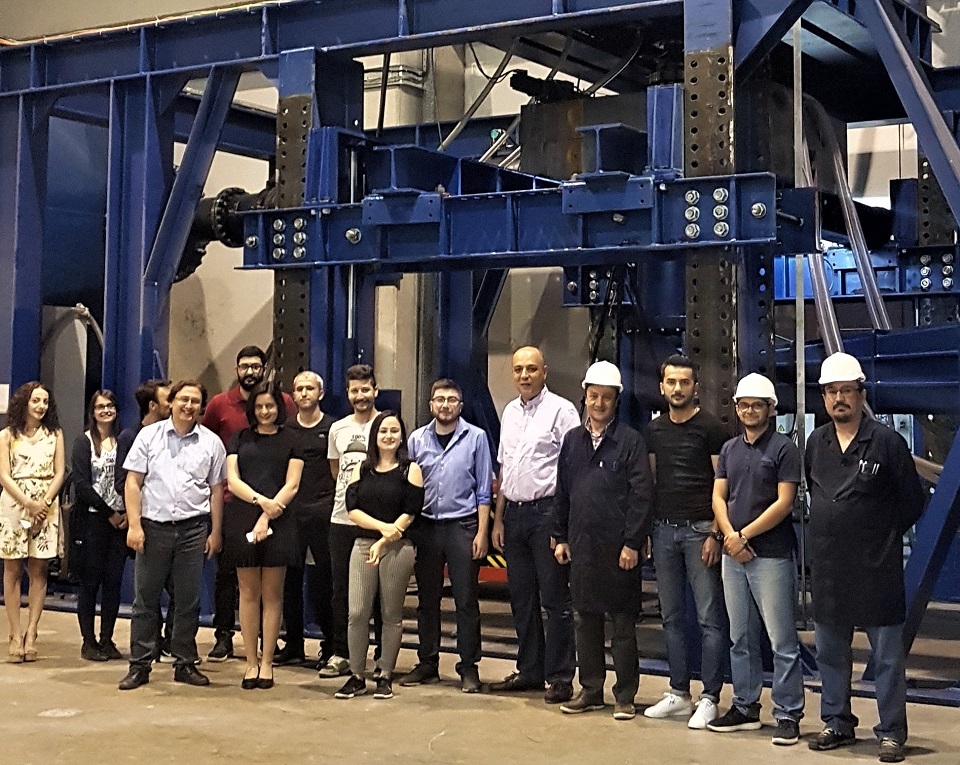 First domestic and national manufacturing in Turkey started with hydroelectric power plant. Turbines used to import however with Milhes Project which is supported by TÜBİTAK, they are produced in Turkey for the first time. 'Model turbine's design and testing' which is the most critical part of producing turbine for the first time in Turkey held in TOBB ETÜ. With this test 400,000 Euro foreign exchange has been saved to economy.
Founded in 1960, Kepez-1 hydroelectric power plant provides electricity over 36 thousand dwelling. Model turbine's design and testing, which is the most critical part of producing turbine for the first time in Turkey held in TOBB ETÜ Hydro. Subsequently, mechanical drawing and solid model of the turbine was given to the producer of the turbine. With this test 400,000 Euro foreign exchange has been saved to economy.
Production of the full-sized turbine built by private firm Gimas A.Ş. Generator was designed by TÜBİTAK Marmara Research Center and generator was produced by TEMSAN. In May 2018 Kepez-1 stopped energy generation and old equipment started to remove out. New equipment, which is produced in Turkey will be built on powerhouse within next months. It is planned that Kepez-1 will start to generate electricity with its new and domestic equipment by October 2018.
Renewal of just state HPPs costs 300 million Euro
One of the coordinators of the 23 million budgeted project Prof. Dr. Selin Aradağ Çelebioğlu from Mechanical Engineering Department stated that, for a power plant such as Kepez-1 it would cost 400.000 Euro if only design tests were made abroad.
"There are over 600 hydroelectric power plants in Turkey. Some of them belong to private sector, some of them belong to state. Grand hydroelectric power plants such as Keban and Karakaya are in need of renewal and rehabilitation. It is projected that renewal of grand power plants cost approximately 50 million euro while small power plants cost about 5 million euro. Renewal of state plants could reach to 250-300 million Euros." Says Prof. Dr. Aradağ Çebioğlu.
TOBB ETÜ is the biggest model turbine design and test center
Prof. Dr. Aradağ Çebioğlu stated that TOBB ETÜ has the highest capacity test center so it can perform tests of all new power plant's model turbines.
Approximately 30 individual work for this project at TOBB ETÜ. Prof. Dr. Aradağ Çelebioğlu, is incumbent for computer-aided design as the Manager of Designing of Hydraulic Turbine Test Center, Dr. Kutay Çelebioğlu, coordinator of the center, is working on testing and designing of the model turbine and Dr. Yiğit Taşçıoğlu takes the responsibility of model's production.
Prof. Dr. Aradağ Çebioğlu who emphasize 4 faculty members, 2 engineers, 2 technicians and considerable number of postgraduate, graduate and undergraduate students are working together on the project, says "Engineers, graduate and postgraduate students that working for the project since beginning, started to work on similar fields in various universities as faculty members, national and foreign firms as engineers when they completed their parts on the project.
Design and test centers are critical in manufacturing of HPP
Prof. Dr. Aradağ Çelebioğlu mentioned that model turbines are smaller versions of original turbines that will be assembled to HPP and they are tested in 1000 m3 water, in TOBB ETU Hydro which has same height and flow rate as actual water in power plant. So that productivity is measured in a lot of ways. Aradağ Çelebioğlu stated that, after test were completed successfully, turbine was ready to production and whole of the mechanical drawing and solid model were prepared and handed to producing company.
Aradağ Çelebioğlu stated that before the first and only facility in Turkey in TOBB ETÜ started to operate, all of the tests were made abroad and says, "Although there is wide range of knowledge in our country about dam engineering, we can not say the same thing about design and production of the equipment. It is paid 800 thousand Euro in 2009 just for testing of the model of water turbines in Keban Dam which only lasted one week. In fact, we need to develop ourselves in this field, in order to reduce external dependence in energy producing. There are considerable number of HPP that obtain license and about to open. If we design hydraulic equipment, test the model and produce all of them in our country, we can save up to millions of dollars for our economy."
MİLHES Project completed in 5 years
The Supreme Council for Science and Technology decided the start MİLHES Project in 2013.
In same year, TÜBİTAK call for proposal for MİLHES. In the meantime, TOBB ETÜ Model Turbine Design and Test Center (TOBB ETÜ Hydro) was in process of building.
In 2015 February, TOBB ETÜ and other partners undertake MİLHES Project of KEPEZ-1 officially.
If TOBB ETÜ Hydro was not built, it would not be possible to actualize 100% of MİLHES in Turkey. Center became capable to perform turbine test in 2017.
In April 2018, design and test or turbines were completed and certified; turbine's production has begun.
In 2018 May, power generation in KEPEZ-1 stopped and disassembly of old equipment and seizing of new equipment has started.
It is planned that in 2018 October, KEPEZ-1 will start generating power with its new and domestic hydraulic equipment.