Gazette ETÜ Had An Interview With Ceyhun Yılmaz, Who Double Majors In Psychology While Attending The Faculty of Medicine
5 YEAR(S) AGO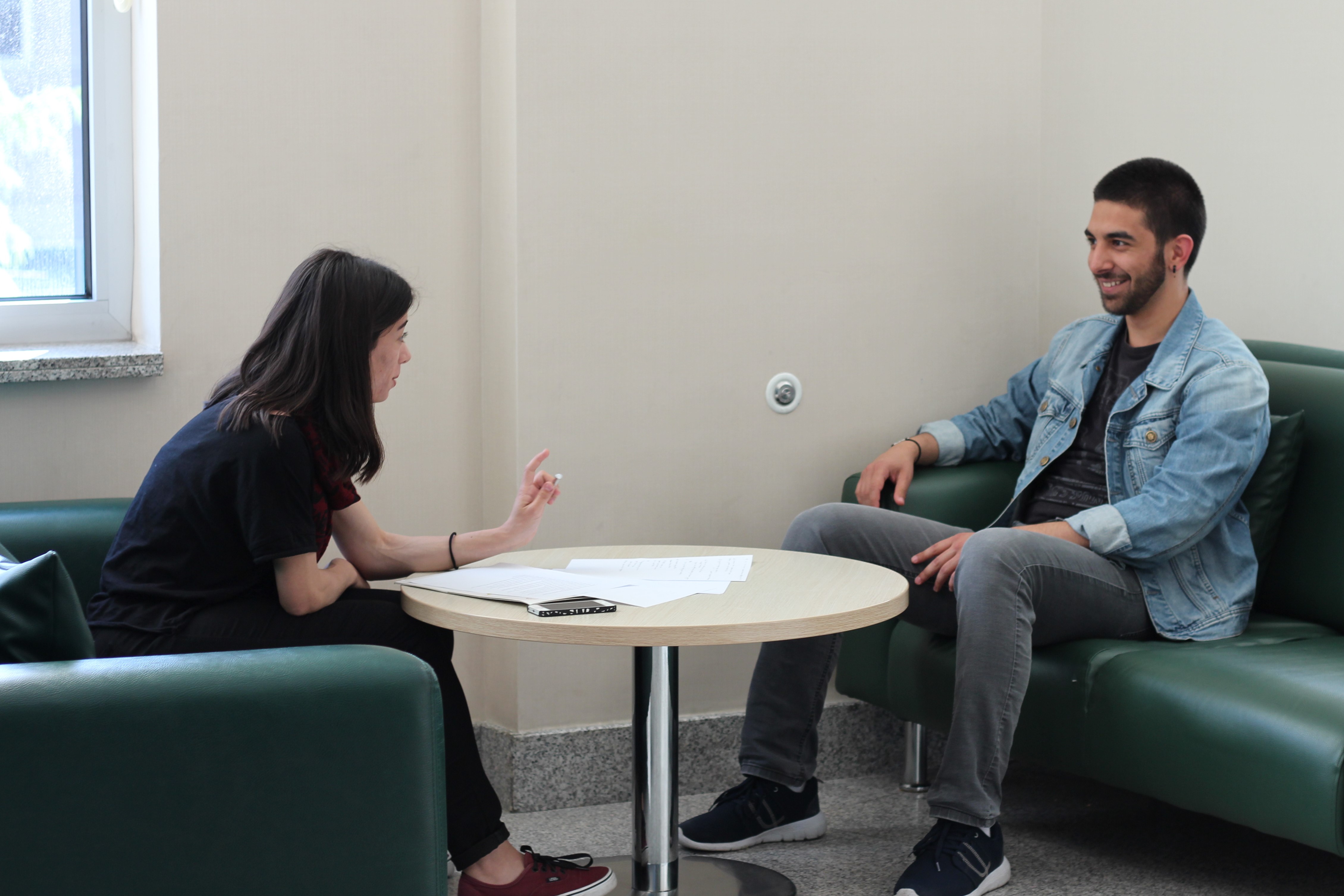 Hello Ceyhun. First of all, thank you very much for setting some time aside for this interview. Can you introduce yourself briefly?
Hello. My name is Ceyhun Yılmaz. I was enrolled in TOBB ETÜ in 2014, with the Faculty of Medicine. It is actually my 9th semester at the school, but right now you could say I am at the end of my 3rd year, as the semesters work a bit differently at the Faculty of Medicine. In academic year 2015 - 2016, I started by double major in psychology. Now, I am managing both in conjunction.
I understand that you achieved success in university entrance exams, to an extent which would allow you to enroll any department of any university. How did you decide to study medicine at TOBB ETÜ?
Actually, TOBB ETÜ was not at the top of my list at the time of choosing a school. But I began to be interested and convinced about the qualities of TOBB ETÜ, after getting introduced to and talking with Selçuk Tunalı, the Assistant Dean of the Faculty of Medicine, who visited my high school on the occasion of a project exhibition. Before choosing schools, I visited TOBB ETÜ once. The laboratories were really well-equipped. Furthermore, the scholarship possibilities, the quality of the academic staff, and the opportunities provided for a second foreign language really impressed me. Furthermore, the fact that the school accepts just 40 students per year enables the professors to work one-on-one with the students.
The semesters at the

Faculty

of Medicine do not run in parallel to the semesters of other faculties. This makes double major a trying task at best. How do you overcome that problem?
Indeed, it is not easy for me. The academic year of both programs start in September. However, the classes at the Faculty of Medicine continue even after Psychology takes a semester break. And by the time the Faculty of Medicine takes the break, Psychology returns. I do not get the chance to have a holiday till late August. But I am trying to get by, as I am enthusiastic about this endeavor.
How did you decide to start double majoring in psychology? Do you intend to take a career in psychiatry in the future?
Actually, when I started with the Faculty of Medicine, psychiatry was not among my plans. In the 1st year, we have this Behavioral Sciences course. The course was offered by Assist. Prof. Didem Kadıhasanoğlu from the Department of Psychology. That is how I got acquainted with psychology, and started to like it. After a bit of research, I decided to get a double major. Later on, as I started to take the classes, I decided that psychology was my true love. If I had known better back then, I would choose psychology over medicine. Actually, at the moment I am more interested in psychology, than medicine. Even though it is not as difficult as medicine, I consider it the field I really want to work in. I believe you can treat someone if you have a grasp of her psychology, even if you lack any knowledge of medicine. If I have to put it in more general terms, I think man is the most precious thing in the world, and the means for controlling man is through psychology.
I have yet to decide on what I will do after graduation. I don't intend to be a surgeon, for that is not a profession I will be good at. I would love to be a psychiatrist and treat patients. I also would love to stay in the research domain, and generate new knowledge while not being involved with the treatment. As I said, I have yet to decide. All I wish is to achieve the best I can. I hope something good will come up.
What do you think is the benefit of an education in psychology?
There are detailed psychiatry courses in the Faculty of Medicine as well. But those are offered mostly with a focus on biology. We get to learn about things which are not taught at psychology courses. The same applies on the other side as well. The courses at the psychology department presents a different perspective. That is why, for someone who is interested in psychiatry, getting acquainted in both perspectives will do wonders. If I didn't have this double major in psychology, there would be some issues I cannot truly grasp.
What can you say about the support by our professors and the school in terms of your busy education schedule?
I mentioned how the close relationship between the faculty and the students, as well as the qualities of the faculty impressed me at the time of choosing a school to attend. In particular, after I started double major, the professors at both the Faculty of Medicine, and the Psychology Department began to help me with anything they can, as they realized the difficulties I endured. Especially when I have a problem, I can easily communicate with the professors from both departments, and they really support me. And the courses are not too boring. The courses are often in a conversational tone, while trying to teach something alongside. But I guess Erasmus and overseas opportunities could be better for both programs. I hope the opportunities will improve in time, given the fact that both programs are relatively new.
I believe right now you are having the joint training for the psychology program at METU, all the while continuing your education at the

Faculty

of Medicine. What does your average day look like? What is your strategy to make more effective use of your time?
Yes, I am getting my joint training at METU, in a Development Psychology laboratory. I work on the analysis of statistical data pertaining to the dissertations in progress. Child development is at the focus of the laboratory. I work on a 9 to 5 shift, but they give me some flexibility as I still take courses at the Faculty of Medicine. As a rule, one cannot take courses during the joint training semester; but due to the different semester schedules of the Faculty of Medicine, I have to manage the joint training and the courses side by side. Sometimes, I skip on the classes, but for the ones I must attend, I get a leave from the laboratory at METU. Once the medicine classes end on 23 June, I will focus more on joint training.
In the olden days, I was a planning junkie. I would plan my whole day in advance. But now, due to my extremely busy schedules, making plans is no easy task. So I sometimes have to get by without any plan as things slip beyond my control. But I have this quality: I do my work as best as possible. I don't do any sloppy jobs. Once I complete a task, I don't let it worry me any more.
So, what motivates you to cope with this really busy schedule? We did not come across anyone who had double major while attending the

Faculty

of Medicine.
Neither did I. I am studying for the assistantship exams for the US. There, as an undergraduate student you need to be really qualified. My double major in psychology will help me immensely in that context. That is what motivates me most. Even if that motivation was not in the equation, I would still choose to study psychology, even if I wasn't studying medicine, as psychology is my true passion. I really love psychology.
What do you do in your spare times? How do you spend it?
I am an avid fan of volleyball. I am not half bad in playing it as well, but what I truly enjoy is to watch the games. I also attend gym. Back in the day, I was a gymnast, but I lost my flexibility as I had to stop training while studying for university exams. But now I try to engage in fitness exercises regularly. As my busy schedules often prevent me from seeing my high school buddies, I try to contact and meet them whenever I have the time. And finally, I love to sleep.
Thank you for this enjoyable interview. As Gazette ETÜ, we wish you success in your education.
I also want to thank you for this interview.
Interview: Şule Demir
Photo: Gizem Önal