TOBB ETÜ Hosted Japan's Ambassador to Turkey Akio Miyajima
2 YEAR(S) AGO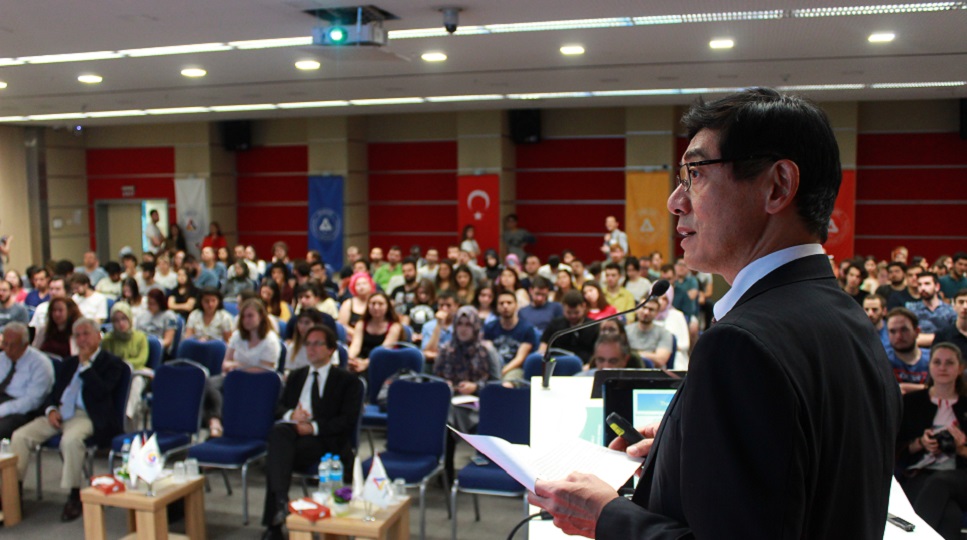 In scope of TOBB ETU's 8th Diplomacy and Peace Seminars, Department of Political Science and International Relations hosted Japan's ambassador to Turkey Akio Miyajima. Mr. Miyajima gave a seminar entitled "Asia and Japan in 21st Century".
Mr. Ambassador stated that his country, Japan, had Free Trade Agreements (FTAs) with Singapore, Mexico, Malaysia, Chile, Thailand, Indonesia, Brunei, Philippines, Switzerland, Vietnam, India, Peru, Australia and Mongolia. Miyajima emphasized that they are in the process of signing the STA agreement with the European Union; that they were keeping negotiations with Turkey and Colombia and also stated that the talks were suspended with South Korea.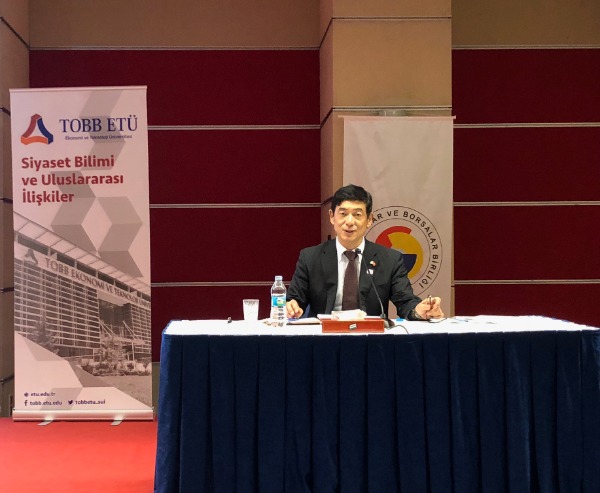 Turkey is a Fantastic Place
Miyajima commented on Japan's investments in Turkey and mentioned that in Marmara Region Honda, Bridgestone, Isuzu, Aisin, Yazaki, Toyota, Daikin, in Black Sea Region/ Sinop, Mitsubishi and in Central Anatolia Region / Çankırı Sumitomo and Nisshin firms continue their investments. He also noted that he tries to travel around Turkey for business and leisure and added "I didn't expect to take a post in Turkey but Turkey is a fantastic place". Later he asked students "In this century, which countries should Turkey cooperate with?" and took "Japan" as an answer which he responded ironically "You are making diplomacy".
Islamic Culture and Japan
Reminding that Japan and Turkey has historic ties, he showed Abdürreşid Ibrahim, a pilgrim who traveled to Japan 100 years ago. He also showed a picture of him with Japanese neighbors. Thus, he shared a line from Mehmet Akif Ersoy's poem about Japan.
Natural Disasters And Earthquakes Brought Turkey Closer To Japan
Mr. Miyajima said that, previous natural disasters brought Turkey and Japan closer. He noted that Japan helped Turkey during the eartquakes of İzmit, Düzce and Van. Likewise, Turkey helped Japan during Tohoku earthquake in 2011. He also mentioned that Japan's aid to Turkey for Syrican crisis reached up to 522 Million Dollars including different services such as sewerage facility in Hatay Reyhanlı, the "Women-only Center" opened by the UN in Gaziantep, the E-Food Card Program of the World Food Organization and the assistance activities for the disabled.
Japan's Foreign Policy Strategy In Its Region
Mr. Ambassador also gave information about Japan's strategy in its region. He explained that Japan conducts "Free and Open Indo-Pacific Strategy" which consists of 3 stages:
"The first stage is to establish and promote basic values ​​such as freedom, democracy, rule of law and market economy. The second stage is to monitor economic prosperity by improving relations and strengthening economic partnership based on infrastructure development through ports and railways. The third stage is to ensure peace stability." He also talked about current security issues around Japan and mentioned North Korea, China and Russia. He alleged three main problems; Russia's claims on the Northern Islands of Japan, China's rapid expansion in the East China Sea and attempts to change the current situation and efforts to confront South China Sea situation with a faint accompli.
How can the relations between Japan and North Korea be fixed?
Describing the Selangor Summit as a historic meeting which brought US President Donald Trump and North Korea Leader Kim Jong-un in Singapore this month, Mr. Miyajima said North Korea's normalization of relations with the world would be possible through the nuclear detachment of the Korean peninsula. Mr. Ambassador also talked about Pyongyang – Tokyo relations, stating that diplomatic relations with North Korea could not be normalized without resolving the return of the abducted Japanese citizens. He stated that the government of Japan has so far identified 17 Japanese citizens with "kidnapped" status and over 100 people is suspected to be kidnapped by "the North Korean-related Lost Japanese Commission" of North. Miyajima also noted that Megumi Yokota, who was kidnapped in 1977 at the age of 13, is the youngest Japanese kidnapped recorded so far.
At the end of the seminar, Ambassador Miyajima received flowers by the Dean of the Faculty of Economics and Administrative Sciences. Prof. Dr. İhsan Sezal and Professor of Department of Political Science and International Relations Dr. Bahadir Pehlivanturk.