Graduation and Opening Ceremony Excitement at TOBB ETÜ!
5 YEAR(S) AGO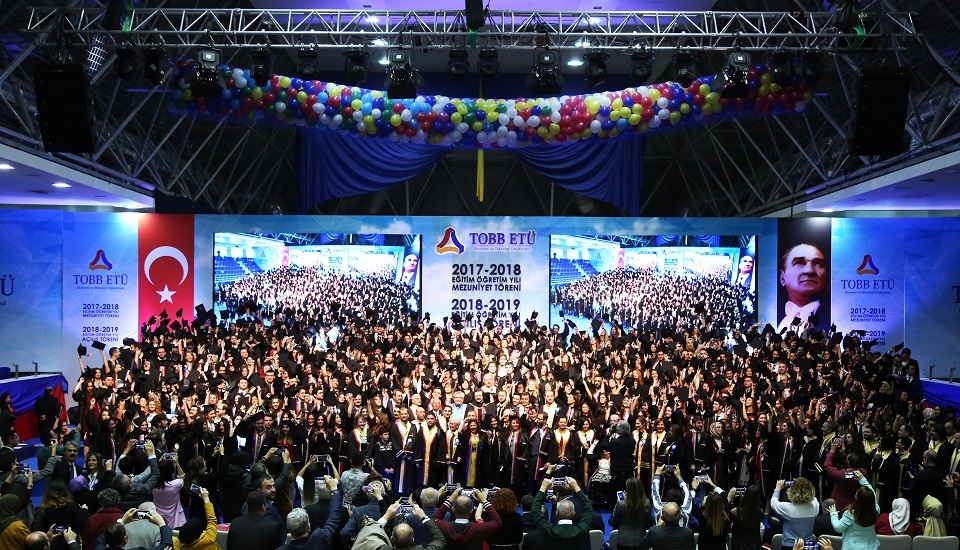 TOBB University of Economics and Technology (TOBB ETÜ), which started its admissions in 2004 and gave its first graduates in 2008, once again experienced the excitement of graduation. 2017-2018 Academic Year Graduation and Opening Ceremony of 2018-2019 Academic Year was held at TOBB ETÜ Sports Hall on 17 November 2018 with the participation of graduate students, their families, students, protocol members, guests, academic and administrative staff and was hosted by TOBB ETÜ Chairman of the Board of Trustees and TOBB President M. Rifat Hisarcıklıoğlu and TOBB ETÜ Rector Dr.Güven Sak.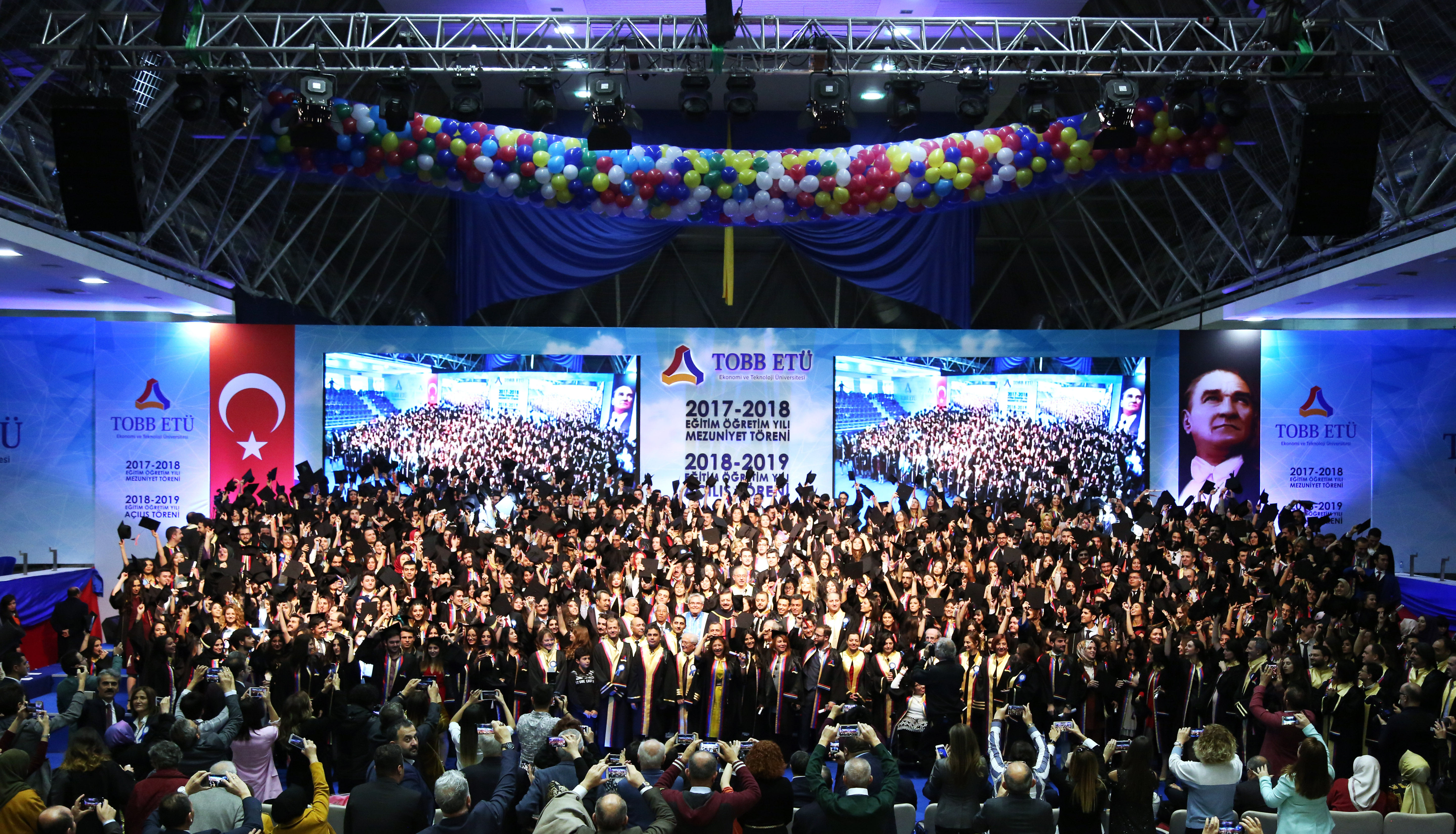 On the opening ceremony, Mr. Hisarcıklıoğlu stated that his most boasting project was to bring this school to Turkey. He also noted that, "investment in education would be the greatest service that could be given to a country. He quoted an Asian proverb: "If you plan for one year, plant rice. If you plan for ten years, plant trees, If you plan for 100 years, educate mankind." and added "that's what we aimed at TOBB ETÜ. We wanted to grow young people with independent ideas, conscience and wisdom. We aim to bring a new generation to our country, not just people who memorize everything but youth who conduct research, produce technology and invent new things.
We became one of the best young universities in the world
Speaking to graduates, Hisarcıklıoğlu said, "The magic word that brings you to today is the goal. A non-targeted person is like a leaf from the body. The direction determines the fortune. Today, you all have reached your first goals. There's more in front of you. I'm kissing all of you. I'm proud of you. I wish you continued success." Pointing out that they are a big family as TOBB ETÜ, Hisarcıklıoğlu said:
Fortunately, today we are among the best young universities in the world. According to the Times Higher Education's Best Millennium Universities list, our university is the only one from Turkey to have a place. Every day, I'm flattered to hear our students', graduates' and professors' success. They represent us in the best way both in the national and international arena. We have medals, great success in graduate exams, graduates who work in world-leading companies such as Apple and Google, teachers who received PhD degrees in the best universities in the world and academicians who represent us in the world's most prestigious academic platforms. Recently, our biomedical engineering department teacher Ersin Emre Ören's work conducted with two universities in the USA was published in the journal Nature Nanotechnology. Nano-scale bio-detector, co-invented with the team, will be able to detect the cancer earlier by passing the current through the human DNA. As you can see, TOBB ETÜ has become a university exporting technology to the world.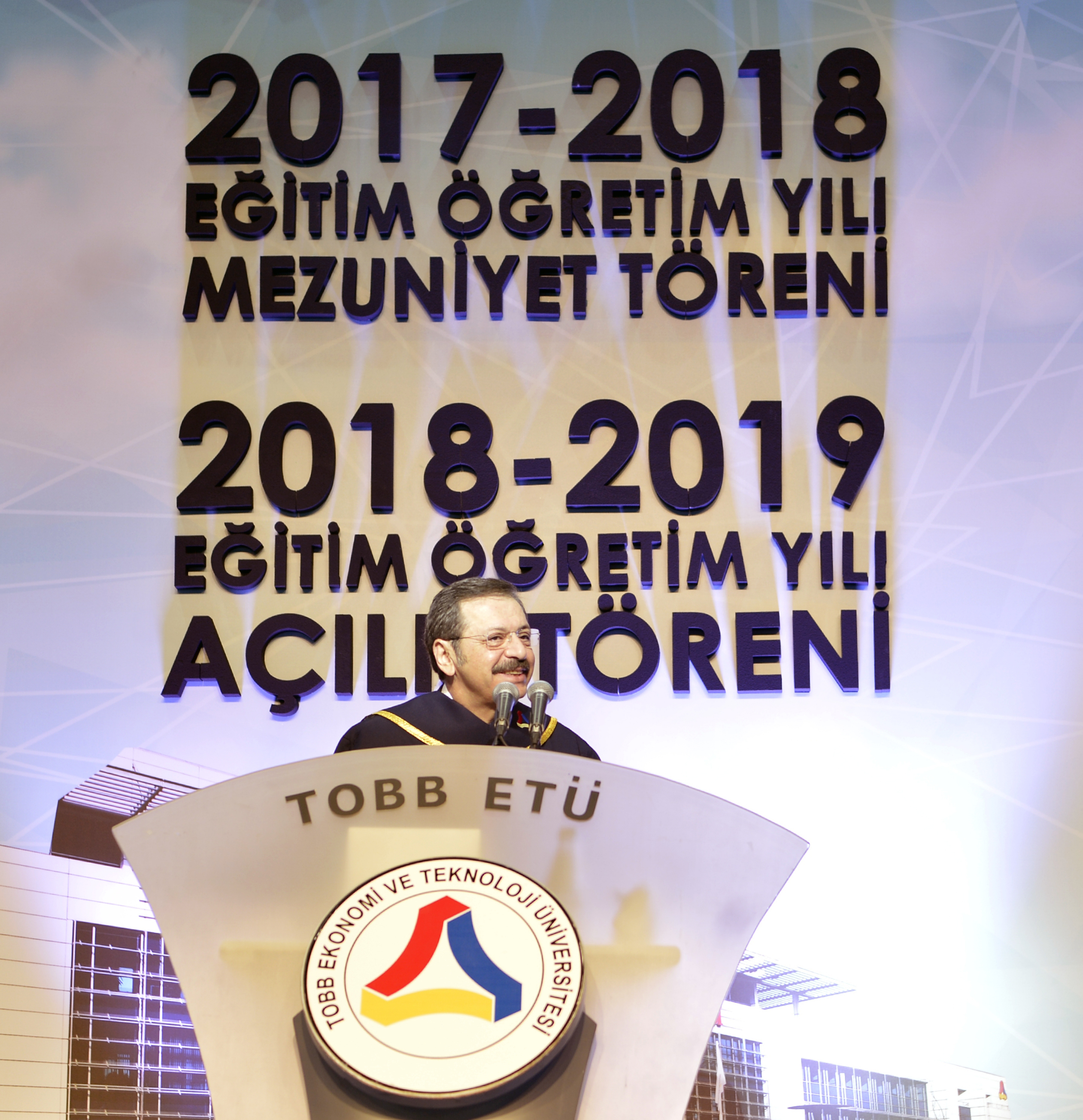 454 Graduates From Our University Founded 644 Companies
Hisarcıklıoğlu stated that the key to success is not accepting the static but being open to change, and asked the graduates to never lose the entrepreneurial spirit after graduation. He said "The entrepreneurial spirit is the most basic feature that separates you from the others as TOBB ETÜ graduates. Thanks to this, so far, our 454 graduates have established 644 companies or became a shareholder. TOBB ETÜ is an innovative and entrepreneurial university. Today, you are the graduates of cooperative education system, which is a spoken model in our country. During your university education, you were both in the classroom and in the field. You learned both theory and practice. You recognize the business world, and more importantly yourself. There are currently about 3,000 companies included in this system. Our graduates begin their business life with 1 year work experience. They are one step ahead of their competitors."
He noted that they started to harvest the fruits of this new education system. He said that "Almost one in every two of our graduates get a job in the first month. 85 percent of our graduates find a job within 1 year. This is a record. The main reason behind this success is because TOBB ETÜ students work during their education. The cooperative education program opens the doors of the world to our students. Not only in Turkey but in USA, in Norway and many companies in Ukraine prefers TOBB ETÜ students. For example, this year, a student will complete her cooperative education at the International Criminal Court. This is your success.
Hisarcıklıoğlu also addressed the new students attending TOBB ETÜ and said, "After an intense and exhausting process, you succeeded in YKS and became a TOBB ETU student. Openly telling, you will work harder during your education at TOBB ETÜ, you will get tired more. While your friends are on holiday, you will take the exams. At the end of your journey, you will receive the reward of all of them, just like the ones who graduated today. When that day comes, you will be glad to choose TOBB ETÜ. Welcome to TOBB ETÜ family.
134 Students Benefited From Our Business Scholarship Program
Hisarcıklıoğlu said that "We have implemented TOBB ETU Business World Scholarship Program to support students with financial needs in order to provide equal opportunities to everyone in education this year. So far 134 students have benefited from the program. I wholeheartedly thank the companies, entrepreneurs and Chamber-Commodity Exchanges who have contributed to TOBB ETU Business World Scholarship Program."
Quoting Bernard Shaw's words "Those who do not speak their own language cannot learn another language Hisarcıklıoğlu said, "My brothers in this hall were already studying Turkish and they already received the TOEFL documents. A new language means a new world. You took diction, entrepreneurship and leadership lessons. Today, the ones who are unable to tell their own story can not be successful. I see it in business. New recruits cannot express themselves. They can't lead, they fail. Here, my brothers in this hall, you took all the necessary training according to the expectations of the business world. Our graduates will understand the value of our university."
Hisarcıklıoğlu also gave some advice, "Be honest at first. The trick is honesty. Never miss an opportunity. Imagine, set your target high and try hard. Don't be afraid of failing or making mistakes. There is one thing I tell my colleagues: making mistake is natural in workplaces. At this time, humanity is flowing very fast. Standing still makes you fall back. The way to success is through constant learning."
Hisarcıklıoğlu asked the graduates not to break up their ties with TOBB ETÜ and continued
"Our door is always open to you. Remember, you are part of Union of Chambers and Commodity Exchanges of Turkey with 1.5 million people capacity. In Turkey, every city you go, you have a place to go. You have the chance to turn this into an advantage. Always follow your university closely. Join the Alumni Association and participate in its activities. Experience the spirit of TOBB ETÜ throughout your life. Work hard for our country and for our nation without being selfish or marginalizing others. Mustafa Kemal Ataturk says "Great achievements occur with the help of successful young people raised by the valuable mothers". Here they are. We trust you, we believe in you."
Professor Dr. Sak: We Raise Students Who Determine The Nature Of The Business World Rectorate of TOBB ETÜ
Dr. Guven Sak stated that "The university has started to give more graduates every year and we have more than 900 graduates this year. The total number of graduates approached 6 thousand. Now we cannot fit in the halls." Stating that TOBB ETÜ is the embodiment of the importance and support given to education by the merchants, industrialists and the business world, he said that they are educating leaders, entrepreneurs and innovative students by taking into account the needs of the business world and the conditions of global competition.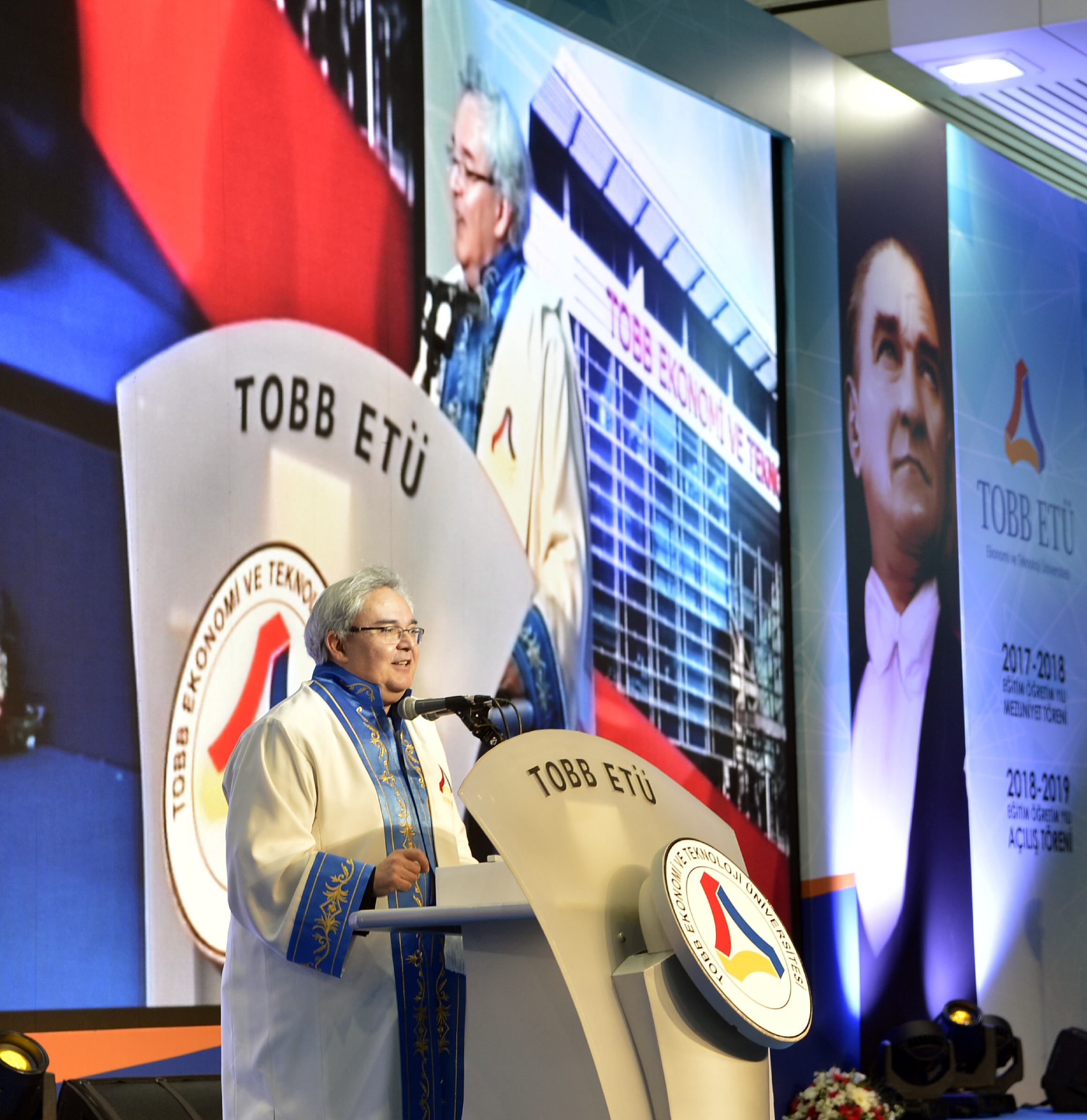 Simla Burcu Harma earned a first place in the department with 4.00 average. After the dissemination of the diplomas, the students celebrated their graduation by throwing their cap in the air. Secretary General of the National Security Council Seyfullah Hacımüftüoğlu, TOBB ETU Board of Trustees Member Cemil Çiçek, TOBB ETÜ Board of Trustees Member Faik Yavuz and other members of the protocol also attended the ceremony.