About Us
The Department runs Preparatory Program, English Language Program for Undergraduate Students and Second Foreign Language Program.
Our students are required to develop their ability to analyze texts and information sources, as well as critical thinking skills and awareness of their own learning styles and preferences. Students are expected to be fluent speakers of English, as well as being able to comprehend, analyze and communicate in English both in colloquial and academic settings when they complete the preparatory program.
Students are categorized into 5 levels, as AF (beginner), A (elementary), B (pre-intermediate), C (intermediate) and D (pre-intermediate for repeat students in their second year).The time period of TOBB ETU English Preparatory School for Programs AF, A, B, and D is one academic year whereas it is one semester for Program C. The students of program C and D sit for Proficiency Assessment Test in December. If they fail in this exam, they join either Program B or D in Spring Semester.
In English Language Program for Undergraduate Students, there are four must courses as İNG001, İNG002, İNG003 and İNG004. In İNG001 and İNG002 courses the students are given TOEFL IBT based instruction. İNG001 is a prerequisite for İNG002 and in the end of İNG002 the students are given official TOEFL IBT exam. İNG002 is a prerequisite for İNG003 and İNG004 courses. İNG003 course program is Academic Writing Skills and in İNG004 the students are instructed Effective Presentation Skills. The students who pass İNG004 completes English Language Program for Undergraduate Students successfully.
As a branch of the Foreign Languages Department, German, Russian, French, Japanese, Arabic, Chinese, Italian and Spanish courses are offered as must courses to the third year students. Students choose among the options and carry on until they finish their undergraduate study. Therefore, TOBB ETU students graduate from their departments not only as fluent speakers and competent users of English but also as basic users of another foreign language.
Vision and Mission
As TOBB ETÜ DFL our vision: to provide qualified language education at the international level as one of Turkey's leading preparatory schools with our innovative approach to language teaching and learning, our self-improving instructors and our unique viewpoint.
As TOBB ETÜ DFL our mission is:
To equip our students with the grammar and social skills necessary for higher education in the country and abroad.
To raise confident individuals who are aware of global issues and solution-oriented.
To turn students into individuals who can think critically and take responsibility of their learning experiences.
Units
Organizational Chart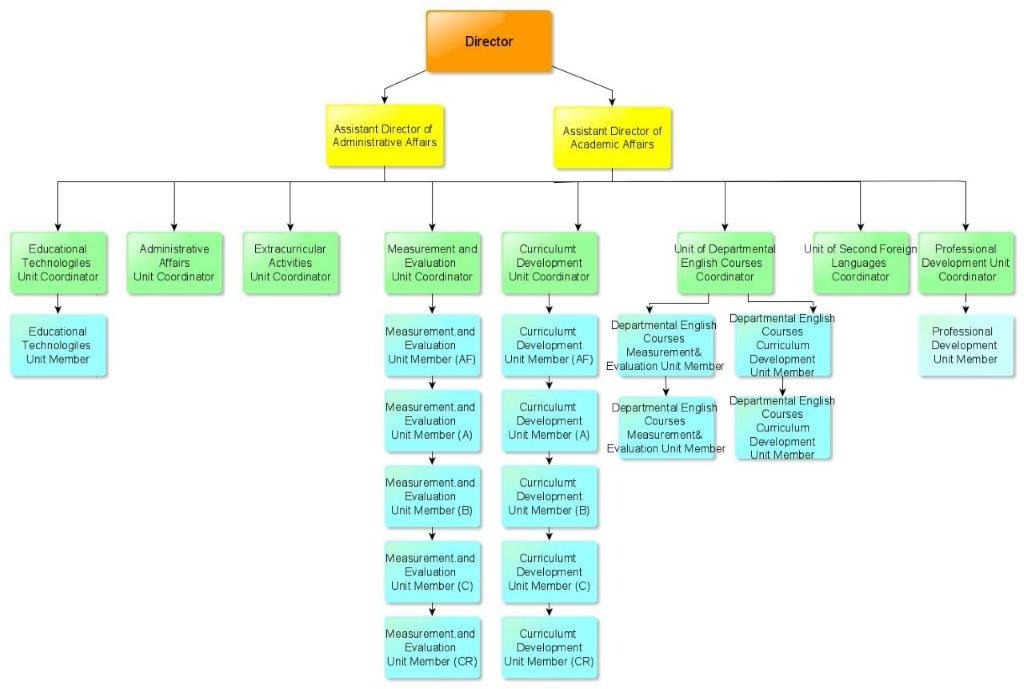 Administrative Affairs Unit:
Prepares course schedules and organizes classes for Preparatory Class and follows up.
Follows up the success and absenteeism of students.
Ensures the implementation of regulations and instructions.
Follows up the internal correspondence of the university.
Supervises the physical needs of DFL building.
Supervises the needs of instructors.
Measurement and Evaluation Unit:
Is responsible for writing, applying and evaluating the exams as well as sharing the results and doing item analysis.
Receives feedback from instructors and students, analyzes the feedback and makes appropriate changes.
Implements and analyzes instructor evaluation surveys and shares their results with the instructors.
Prepares and evaluates the exams for graduate student candidates, shares their results with graduate schools and processes petitions.
Curriculum Development Unit:
Decides on the goals of the program and determines the learning outcomes.
Prepares yearly and weekly programs in accordance with the goals and objectives of the program.
Decides on and organizes the content in accordance with the goals and objectives of the program.
Ensures that the programs run efficiently.
Is responsible for the evaluation of the programs.
Extracurricular Activities Unit:
Organizes extracurricular activities and corresponding for the exchanges (COOP=teaching assistants)
Arranges and maintains partnerships with the universities abroad (Erasmus + projects)
Acts as Erasmus Department Coordinator for the Department of Foreign Languages
Organizes and runs the international exams (TOEFL IBT, TOEFL ITP, TOEIC, GMAT, TELC and etc.)
Educational Technologies Unit:
Regularly updates and informs about the online components of course books.
Creates online classes, assigns and grades online homework.
Provides technical support for the online components throughout the year.
Prepares access to the student information system of Department of Foreign Languages (UBS) every term.
Provides and updates in-class materials, books and/or CDs and DVDs for both instructors and students.
Makes recordings for Curriculum Development Unit, Measurement and Evaluation Unit and Undergraduate English Courses Unit.
Professional Development Unit:
Professional Development Unit aims to provide services and training for the instructors at the Department of Foreign Languages at TOBB ETU to assist in professional and personal development.
The main mission of Professional Development Unit is to contribute to the CPD (Continuing Professional Development) of the instructors in the institution and to ensure the quality of instruction by equipping the instructors with the necessary knowledge and skills through a positive and collaborative learning environment and exchange of practice.
The unit conducts a two-week induction program for newly recruited instructors and provides an opportunity to familiarize themselves with the institution, the program, and the procedures, gives them an idea about our expectations of you in the classroom by the input, micro-teaching and discussion sessions, and to get prepared for the new academic year.
The unit works with other coordinators and units to enhance collaboration and teamwork within the department.
The unit organizes an annual national/international/in-house conference called FLE Joint Conference and encourage the instructors to take part in this organization either as a presenter or as an organizing committee member.
Undergraduate English Courses Unit:
Offers İNG001, İNG002, İNG003 and İNG004 courses to students who successfully complete Preparatory Class or students who are exempt from Preparatory Class (except for English Language and Literature students).
Offers Online English Program courses (İNG001U, İNG002U, İNG003U and İNG004U) to students studying in departments whose medium of instruction is Turkish as an alternative program.
Offers English for Specific Purposes (ESP) courses (GMİ, İMİ, MMİ, TMİ, HMİ) designed specifically for faculties.
Organizes the evaluation and program development of the courses offered for the given term.
Second Foreign Language Unit:
Enables students to choose among German, Spanish, Russian, Italian, Arabic, Japanese and French languages through software unit during the language course registration period.
Determines the number of students taking second foreign language classes given as part of undergraduate programs and informs the head of the department so that there are enough number of sections for the classes.
Is responsible for the programs and exams of second foreign language classes. Does the necessary arrangements and assignments for these classes.
Does the program arrangements for YİP (Intensive Second Foreign Language Program), a program for the students passing Preparatory Class.