Students of TOBB ETÜ Interior Design and Environment Design Department Took Part In The 5th International Fine Arts Student Congress (IFASC)
6 YEAR(S) AGO

The International Fine Arts Student Congress (IFASC), the 5th of which took place this year as a traditional event organized by Maltepe University, Faculty of Fine Arts, was held on 15-17 March, 2017, at Istanbul. The event organized around this year's theme 'Art – View' saw representation of TOBB ETÜ Interior Design and Environment Design Department in the form of a workshop titled Expose led by Lecturer Şaha ASLAN, as well as a total of 14 papers presented by 23 of our students.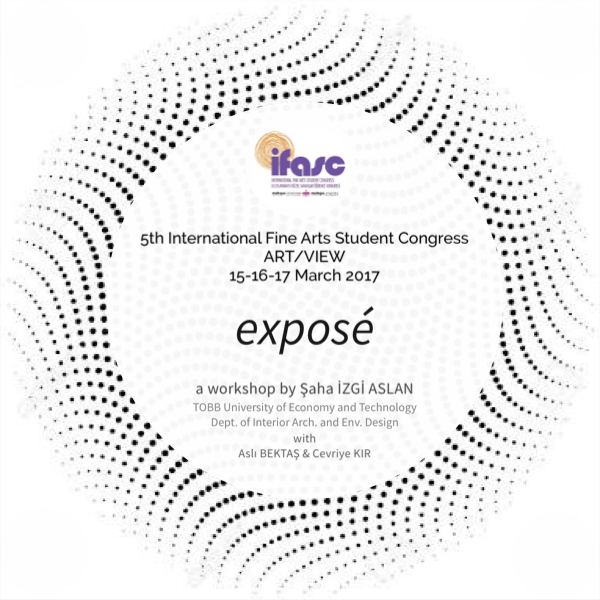 1

What about our own differences instead of differences between cultures?

İpek AKSEL

2

Modern Life, Artifıcial Timelesness and Cinema

Beyza ŞEN

İrem HACIYUSUFOĞLU

3

What if everyone thought alike?

Ayşe HACIABDULLAHOĞLU

Kübra ERDEM

4

The Identity Of The Remained

Ayşegül ŞİMŞEK

5

The Projection Of Art

Mehtap KARSAK

Meriç TUNCA

6

From Village To City: City Buildings Without Identity

Berk KORKMAZER,

Murat Can ÇETİN

7

Althought My Boby Is a Slave, My Thoughts Are Free

Berfin Başak TAZE

Gökçe ÜNLÜ

8

Space, How Much Can Touch of The Soul of a Human?

Kübra YILMAZ,

Bahar DİNGİL

9

Concept and The Transmissibility

Hazal Zeynep ŞAHİN

10

Art In First Impact

Gülfem ÖZDOĞAN

11

HIigh Rise

Merve ERCAN

12

Should school archıtecture stay orthodox?

Semaye EFE

M. Kana TUNCAY

13

Can You See What I Can See?

Aşkım Mine BABAOĞLU

14

Belief, Time and Remnants

Teoman Barış GÜL

Murat ÖZ

H. Büşra KİRİŞÇİ
The event focusing on art and points of view, as well as the interactive relationship between these two concepts, aims to reveal how undergraduate students enrolled at various departments of the Faculties of Fine Arts see the concepts of arts through the filters and perspectives of different cultures, on an international platform. In this context, the students had the opportunity to contribute to the program in the form of papers, exhibition works, and short films.
One of the activities at the event, the workshop titled Expose organized by Lecturer Şaha ASLAN was based on the idea that, in a given perspective, a given concept would find its meaning with reference to the spirit of the time (zeitgeist) and space (ortgeist) it was developed in, as well as that of the individual (volkgeist) producing it. "The change in any one of these three qualities will lead to the transformation of the contents of the concept!" as the central proposition, led to a conceptual transformation experienced by the students, through a formal analysis based on their reading with reference to three historical eras, and through an intervention on the form.
The workshop completed with a group of 12 composed of the students of the Faculty of Fine Arts, Architecture and Design at TOBB ETÜ, and the Faculty of Fine Arts at Maltepe University gave the students an awareness about how sets deemed neighbors from a fixed point of view could exhibit a wholly new pattern and neighboring relationship from yet another point of view.