TOBB ETÜ Enjoys the Enthusiasm of the Graduation Ceremony for the Academic Year of 2016-2017 and the Inauguration Ceremony for the Academic Year of 2017-2018
6 YEAR(S) AGO


TOBB Economy and Technology University (TOBB ETÜ), which admitted its first students in 2004 and produced its first graduates in 2008, once again enjoyed the enthusiasm of graduation. The Ceremony of Graduation for the Academic Year of 2016-2017 and of Inauguration for the Academic Year of 2017-2018 was held on Saturday, November 04, 2017. The ceremony, hosted by M. Rifat Hisarcıklıoğlu, the Chairman of the Board of Trustees of TOBB ETÜ and the Chairman of TOBB, and TOBB ETÜ President Prof. Dr. Adem Şahin, and attended by the graduating students, their families, students, members of the protocol, the invitees as well as the academic and administrative staff, was held at TOBB ETÜ Gymnasium.
Mr. Hisarcıklıoğlu, the Chairman of th Board of Trustees, who delivered the speech at the opening of the ceremony, expressed his happiness to be attending the diploma ceremony of one of the most successful universities in Turkey, and said; "Seeing you strengthens my hopes for my country. As I always say; we, at TOBB, take the utmost pride in having established this precious educational institution for Turkey. In my opinion, a contemporary university is the most efficient factory that would contribute to the prosperity of the nation. Investing in education is the most effective way of serving the nation."
It is our aim to raise a generation that produces technology
Reminding Archimedes' quote, reading "Give me a place to stand, and I shall move the world", Hisarcıklıoğlu said that even though the famous philosopher could never actually move the world, we, his descendants, have managed to change it spectacularly. Underscoring that self-driving automobiles, assistant robots, artificial intelligence and virtual reality are the new facts of the world, Hisarcıklıoğlu continued his speech as follows; "As we see for ourselves today; in this age of information, the capital has predominantly shifted to information technologies. The key to becoming one of the top economies in the world is to produce more technology. Hence, the main objective of this educational institution is to raise a new generation that does not only use but also produces technology. TOBB ETÜ is an endeavor for raising a new generation for our country, the members of which can access to information easily, learn fast, react with agility, produce technology and develop inventions.".
Drawing the attention to the fact that the graduates of TOBB ETÜ have undergone "cooperative education", which is currently recognized as an exemplary education model in Turkey, Hisarcıklıoğlu further commented as follows:
"These young individuals have received education for three semesters instead of two thanks to the cooperative education. They have been educated both in the classrooms and in the field. They have learned about both the theory and the practice. They have gained insight about the business world, and they have introduced themselves to it. Please note that, currently, more than two thousand companies have signed up for this system. I know all of those fellow businessmen. Our graduates start their first job with one year of experience. They, therefore, are always one step ahead of their peers, who are also their rivals in job hunting. I thank Allah that this new educational model that we have introduced to our country has started to pay off. Nearly one of every two graduates of TOBB ETÜ manages to find employment almost immediately, within a period of one month According to the official statistics, some 83 percent of our graduates find employment within one year. These figures represent a record. What makes the young individuals, who graduate from TOBB ETÜ, the champions of employment is the hard work they invest in themselves through the course of their education. You are the ones, who deserve the credit for this success. I am proud of you."
Hisarcıklıoğlu, who noted that famous thinker Bernard Shaw once said "No man fully capable of his own language ever masters another, spokde as follows; " "My young brothers and sisters in this hall, who have undergone their education in Turkey, have already obtained their TOEFL certificates. Dear students, do not limit yourselves with that only. Learning a new language is discovering a new world. And now, you must also gain software language skills in addition to your foreign language skills, too. Learn and master at least one programming language whatever your profession and your major may be. Remember that, in the future, we will have to communicate with machines as much as we will be communicating with each other. You have taken diction, entrepreneurship and leadership courses. In our time, one, who cannot express himself, cannot succeed. I sometimes witness in the business life that new recruits fail in expressing themselves, cannot lead the process and eventually they fail to meet the requirements of success. My young brothers and sisters in this hall have all received those courses, which they will need in the business society and in which the business society will be expecting them to excel. The time that our graduates will actually appreciate the value our university has added to them is now."
Do not avoid of taking initiatives
Hisarcıklıoğlu, who reminded that great leader Mustafa Kemal Atatürk, the founder of our country, once said "My all hope is the youth", continued his speech as follows; "Never think it is too early for any goal. Bear in mind that the oldest of the commanders of our War of Independence was General Fevzi Çakmak, who was only 43 years old. The generals, who challenged and defeated the great powers of the time and won our War of Independence, were only young officers, who were at their 30s. I would like to take this opportunity to mention and remember with gratitude and due respect Mustafa Kemal Atatürk and all other martyrs and veterans, on whom may God's mercy and grace be, for founding our Republic and giving us this magnificent country! You have a truly great responsibility. Never avoid of taking initiatives. Imagine, set goals and work hard! Never be intimidated about failing or making mistakes! This is what I always tell my associates: Wherever there is an action taken, mistakes could happen there! Remember: behind every great achievement are failures and determination."
Hisarcıklıoğlu, who advised the graduates to be confident in their ideas and not to avoid trying and experimenting, said; "Google happens to be the 21st search engine of the world. This means that Google is the product of an idea that failed for 20 times before it was actually developed. No achievement is a miracle. But each is the outcome of the combination of imagination and determination. Never forget that you are, now, a part of the TOBB Family of 1,5 million members. Always keep close track with us, your university. Never disconnect. Our doors are always open for you. So, you have somebody to apply for help and support in each region, city and town in Turkey. It is in your hands to turn this into an advantage."
You have considerable opportunities here at TOBB ETÜ to become an entrepreneur
Stating that the university offers considerable opportunities to become an entrepreneur, Hisarcıklıoğlu spoke as follows; "Some 5 years ago, we established "GARAJ", in order to educate and raise new entrepreneurs. There, we bring new entrepreneurs together with expert consultants and investors. We introduce them to their potential customers. Three entrepreneurs, who made use of Garaj, received some USD2 bio investment from abroad. I always tell our students that if they have a new business idea, they must come to "Garaj". We offer free office space. We also offer consultancy on any matter including access to funding. Four years ago, we established TOBB ETÜ Technology Transfer Office. There, we offer technology transfer services to academicians and industrialists for project and development. According to the statistics published within 10 years by TÜBİTAK (The Scientific and Technological Research Council of Turkey), we rank first in Turkey in terms of budget allocation to faculty members. Also, we established the Technology Center five years ago. It is a center with any and all tools and equipment that may be required to carry out R&D activities in order to produce our own technology in the industry. The Technology Center harbors the largest Water Turbine Testing and Design Center of the world. It is where "Milhes", the National and Domestic Water Turbine, is designed. The "Biomechanical Laboratory" established at the center serves to 18 countries. The laboratories at our Technology Center have been used by some 42 universities and nearly 200 companies."
Our graduates start the life one step ahead
TOBB ETÜ President Prof. Dr. Şahin stated that the university, in fact, invested in the future of Turkey, and said that they took pride in graduating students, who are capable of efficiently analyzing the universal and the local, the theory and the practice and today and tomorrow, and who have received an exceptional education on the basis of actual cooperation of the university and the industry through the cooperative education model. Prof. Dr. Şahin noted that the number of students studying at the university has attained 6,400 including undergraduate, graduate and postgraduate students, and the number of the students, who have graduated from the university, has attained 4,600. Prof. Dr. Şahin stated that TOBB ETÜ has become a large family with some 400 academic staff members and 120 administrative staff members. Prof. Dr. Şahin said; "Our graduates will enjoy the privilege and the advantage of starting the life one step ahead with the knowledge and confidence they have gained as well as the three-semester education, which is implemented only at TOBB ETÜ in Turkey, and the one year work experience they have gained through the cooperative model. Our fresh year students, who have newly joined us, will be educated as the members of a strong family, it is my hope that we will all take pride in graduating them and preparing them for the life."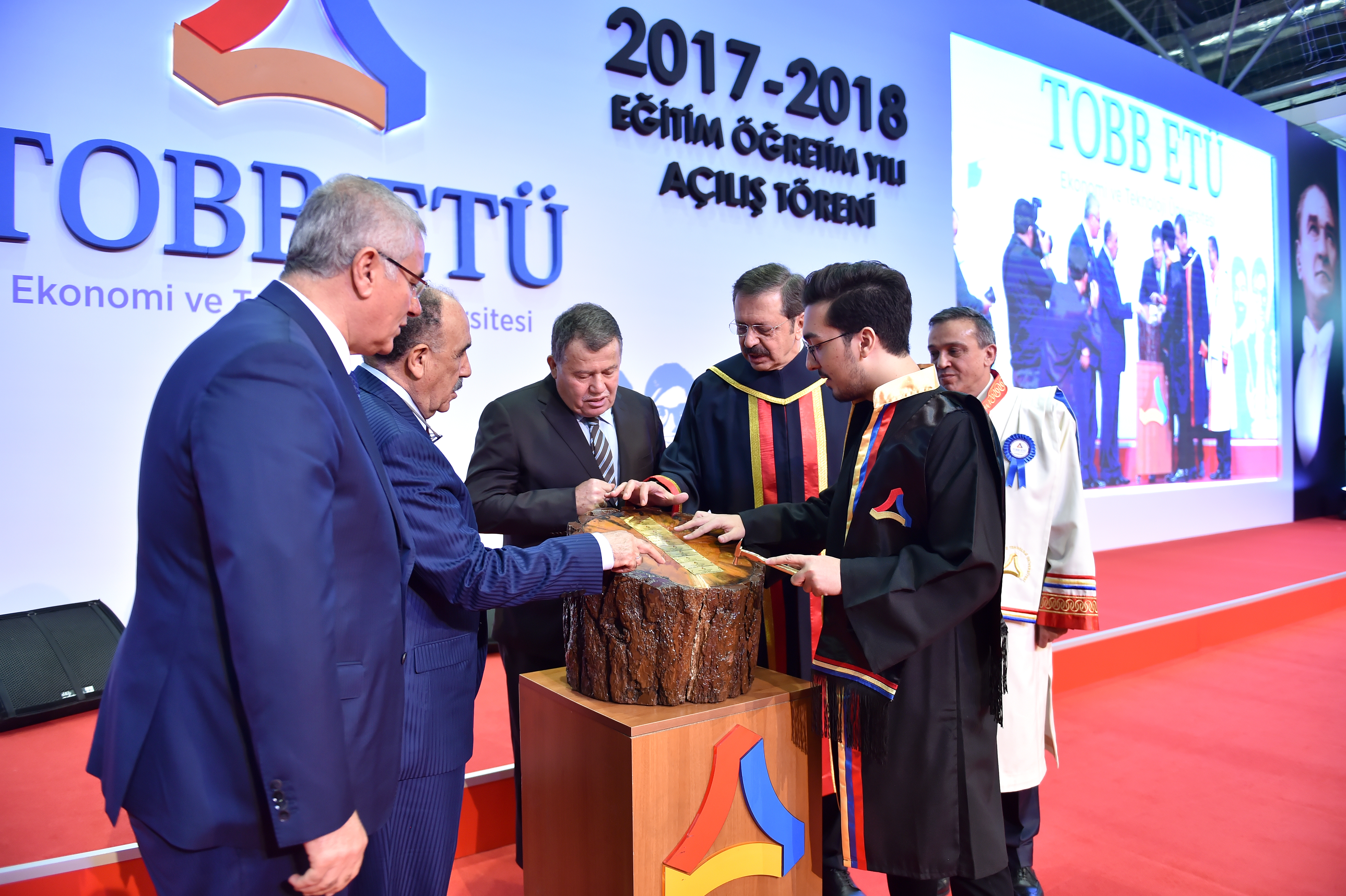 During the ceremony; Cihat Çağlar, a double major student of the Department of Architecture, who, having completed the Department of Interior Architecture and Environmental Design with 3.98 grade point average out of 4, became the highest ranked student of the University, nailed a name plaque on the year log. Following the delivery of diplomas, the students celebrated their graduation, throwing their caps in the air. The ceremony was attended also by İsmail Rüştü Cirit, the First President of the Court of Cassation, Mehmet Akarca, the Chief Public Prosecutor of the Court of Cassation, and the other members of the protocol.
Click here to see more photos from the ceremony.